What to in Vila do Abraão
Located on the so-called Costa Verde in the state of Rio de Janeiro, Vila do Abraão is located in Ilha Grande, a district in the municipality of Angra dos Reis. The island is the largest in Rio de Janeiro and is among the largest in the country.
And because it is on an island, many people are in doubt about how to get to Vila do Abraão, if it is possible to take the car there, among other doubts. So, write down this important information to plan your trip.
How to get to Ilha Grande?
To facilitate your planning, we will suggest here the best options to arrive in Ilha Grande. But I'll say it right away: you won't be able to get to Ilha Grande with your own car, as vehicles are not allowed to enter the island (with the exception of official vehicles – garbage trucks and police).
Therefore, leaving Rio de Janeiro or São Paulo, there are two viable options: car+boat OR bus+boat.
That said, there are three options for places that offer boat trips to Ilha Grande:
Mangaratiba: only one boarding time and only for Abraão.
Conceição de Jacareí: shorter trip to Abraão, especially for those leaving Rio de Janeiro by car. There are several departure times throughout the day and good parking close to the departure pier.
Angra dos Reis: main exit for most villages on Ilha Grande. In addition to Vila do Abraão, there are boats to Provetá, Aventureiro, Bananal, Araçatiba, among others. It is the closest option for those leaving São Paulo.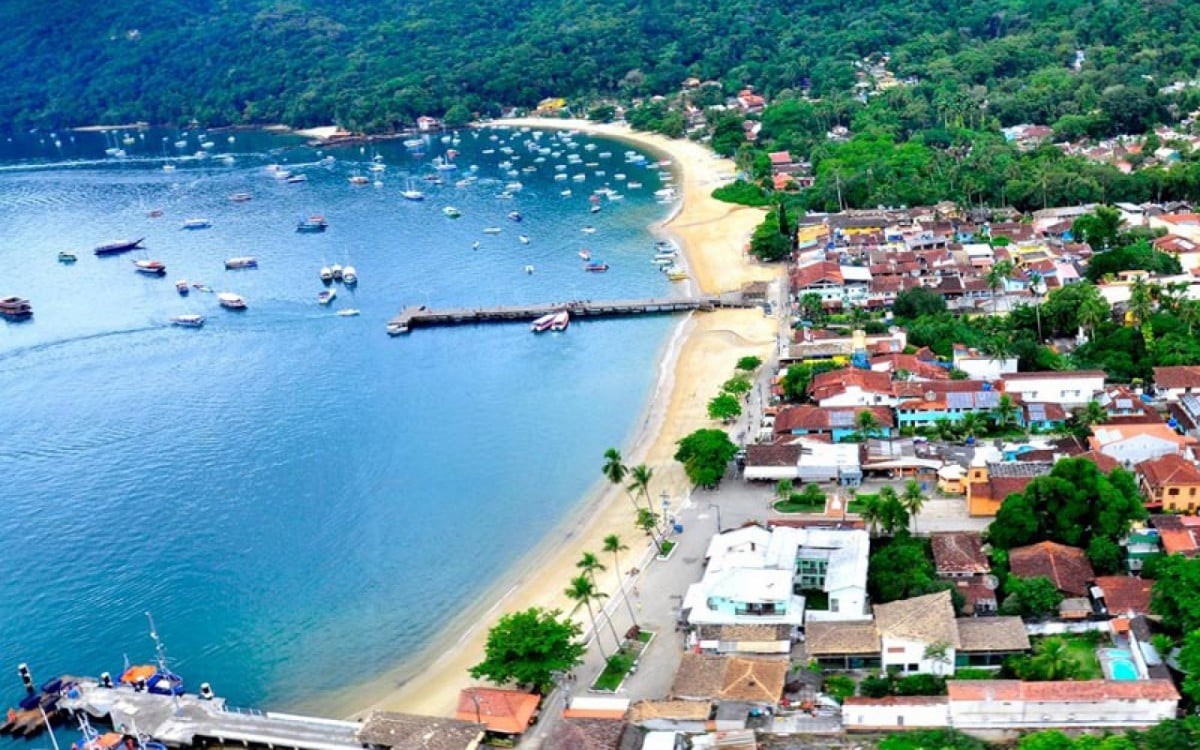 The Ilha Grande Archipelago is made up of around 200 islands and islets, among which Ilha Grande is the largest. With transparent waters and preserved nature, the place is a roots destination for those who want to stay in touch with nature.
The gateway to this paradise is Vila do Abraão, the largest village on the island. We can say that it is the place where everything happens. Here you will find the greatest options for accommodation, shopping and good restaurants. Everything very close.
In addition, from Vila do Abraão (Ilha Grande), there are tours to other areas of the island, as well as trails to other beaches. So if you want to enjoy the best of Ilha Grande, Vila do Abrão is certainly the best place.
Where to stay:
Undoubtedly, you will find in Vila do Abraão very charming inns with a rustic charm that makes the atmosphere very cozy. Below you will see great accommodation options that I have selected with the best possible experience in mind.
Naturalia inn
Firstly, Naturalia inn is one with a privileged location. Located on Abraão Beach, it is connected with nature and has a breathtaking view of the Ilha Grande sea.
It is very exclusive, there are only 12 rooms for guests. All very charming and with a balcony overlooking the sea and a hammock.
The inn's service is excellent and the breakfast is highly praised by guests who have stayed there.
Ruby inn
Inaugurated in 2019, Ruby inn is another option well located in Vila do Abraão (Ilha Grande), facing the sea and close to the shops in the village.
The inn's rooms are light and airy. All are equipped with air conditioning and offer a view of the garden or the sea. In the external area, the inn has a whirlpool, garden and sauna for your comfort.
Togomogo inn
For those looking for tranquility, the Togomago inn is the best. Located 60m from the sea, the inn is simple and rustic, but very cozy.
Togomago has only 6 exclusive suites, guaranteeing exclusive guest service. All units are well ventilated and have plenty of natural light. Some rooms have a balcony and hammock to relax in the late afternoon.
what to do during the day
During the day, there is no shortage of leisure options in Vila do Abraão. I will list the best things to do there!
Boat trips on Ilha Grande
Firstly, boat trips are a great way to get to know Ilha Grande's beaches for those who don't have much time, or don't want to walk the trails that connect one beach to another. There are several options for tours, in boats, schooners and speedboats.
Trekking enthusiasts will love to know this. Throughout Ilha Grande, there are several trail options to explore, from the simplest to the most advanced. Altogether there are more than 100km that cover the entire island and many of these trails leave from Vila do Abraão.
In fact, there are 16 official trails, which together go all the way around the entire island. The trails depart from three "trunks", or base villages: Abraão, Bananal and Araçatiba. In general, the trails are well signposted and some of them are so used that they look like roads already.
The travel time between each of the trunks is 1 day at most. The journey between the beaches takes about 1 hour. The longest trail on the island is 9km long and connects Dois Rios to Parnaioca.
Before planning your trip to Ilha Grande, don't forget to check Vila do Abraão on the weather forecast, as the main attraction in the region are the beaches.
Due to the geographic location and climate, during the summer, rainy days in Vila do Abraão are more frequent than we would like. However, the good news is that it usually falls towards the end of the afternoon, so it is still possible to enjoy some walks.
If the weather does not cooperate, the trails are not a good option for what to do in Abraão in the rain. You can also take boat trips to nearby islands, as the sun can appear throughout the day.
And of course, if you can't do any nature walks, choose a good restaurant to pass the time while having good drinks!
Now that you've got all the tips, all you have to do is set up the itinerary, choose the accommodation using BITBOOK.NET, pack your suitcase and throw yourself into the charm of this amazing place.
I have no doubt that you will have unforgettable days. If you have any questions, leave them in the comments and we'll be happy to answer them!
Safe travel and enjoy this amazing place!